Check out this page soon for information about fly fishing equipment and gadgets including:
Rods, reels, lines, leaders, clothing, vests, waders, boots, fly boxes, tools, fly tying equipment, materials, tools, watercraft, and anything else we think can be incorporated into our already ridiculous amount of pocket draining collections.
In the meantime, shop your local fly shop and trust their professional knowledge and experience. The time, money and frustration you will save is much more than what you will save at a local giant retailer.
One more thing while I am here. This page will be more of a collection of opinions based on field testing and feedback from as many reliable sources I can find. So don't expect me to tell you what to buy or where to buy it, just some fun and informative discussion.
Leaders and Tippet, Watercraft or Floaty Things,
Current Topic - Odds and ends
This month I want to talk about several new items and the first is Rios New Hover Lake Line. It seems like every line manufacturer comes out with a few new lines and I think that they are generally trying to get us to buy new and more lines, but who can blame them in our world of planned obsolecense with cars, tvs, computers and pretty much everything in our lives. HOWEVER! I think besides the innovations in new Spey lines, this line is a major breakthrough for stillwater anglers. It has a very slow sink rate, casts easily, no memory coiling after retrieving, negates wind effects and in general will be super with midges and damsel nymphs as well as emergering insects near the surface. Now we have added new lines that have much less stretch and have better floating and sinking properties.
Inaddition, some of the new single handed shooting heads for light rods are going to change the world of flyfishing in the next years. If you are not familiar with the Spey casting for trout, hold on and learn, because things are about to change A LOT!!!!!
Tying Light for your RV or back bumper
Over the years, I have seen almost every concievable method of providing light for tying flies and working on your equipment when the light is low. They range in price and concept from cheap flashlights and headlamps to sophisticated 12volt lighting systems that can cost well over a $100. In addition, the quest for "on the water lighting" has caused me to spend enough money in recent years (you know those old eyes problems) to have hired someone to hold the flashlight for me. That is another product story and we will talk about it a little further down. Anyway, back to the tying light solution. I finally started to use my head for something other than to hold my hat (I would say hair, but don't have much) and remembered the electricity unit that I teach my Physics students. I use a 12 v RV battery and attach long copper wires to both terminals. Then I use an ordinary light bulb socket and insert a 12 volt RV bulb (they come in 15 to 50 watt versions). This system works great for demonstrating many principles of electricity and the bulbs are very bright. I went to the cheapest discount store and purchased one of those swing arm lamps with a clamp attached and a 12 volt car type plug. In addition, I purchased some 12 volt bulbs in various wattages. The total cost was about $15 and I am sure I could make one cheaper. I cut of the normal 120 volt plug and installed the RV plug. The light works great and I even found I could buy some cheap wire and extend it to almost 20 feet before the resistance got to high. You could install battery clamps instead of the RV plug or buy another adaptor for both. I have used this arangement on many trips and it is an integral part of my vehicle equipment manifest.
Head Lamp for on the water needs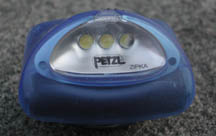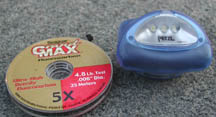 Note: since writing this, a whole lot more choices have come on the market from reasonable headlamps from Home Depot to specialty lights that can range from a few dollars to over a $100 each. Many have multiple led bulbs that can put out a lot of light. It does not matter what you use, but if you fish early or late in low light situations, you need something to tie on bugs, check your equipment, or just find the damn trail. As I mentioned in another discussion, I have tried every type of light to help me see better in the dark there is. I mean it has been almost a major quest. Until recently, no matter what gadget I bought or used, I would always return to a device I call a Flip-Light that I found at a local bookstore. It holds 4 AA batteries and sits on your chest at just the right spot to tie on a size 24 spinner in the dark. I think I still have at least 2 dozen light devices in my travel box just in case one may evolve to something better in the dark reaches under my bag of Hal Jansen butt section collection. Does that stuff go bad? Anyway, last year I purchased a small Petzel head lamp that has a retractable cord incorporated into the lamp (the Zipka model weighs only 2.2oz!). The cord goes around your head and does not cut off curculation or cause permanent brain damage. The light costs about $33 to $39 depending on how proud the the dealer is of there equipment and is worth every cent. It puts out a great deal of light and can even be used to light the path back to the truck if needed. They say the batteries last a 1000 hours (we'll see on that one). The light is originally intended for backpacking or hiking and I first saw one at REI. Now a number of fly shops and outdoor outlets are carrying the light and it is becoming more popular each day. One of the easiest places to get it is FeatherCraft.com on the web. I even got my fishing buddy Rick to buy one this year and he has a long time love affair with his Black and Decker Snake Light that he used to wrap around his neck before the evening hatch. Now the headlamp is small, very light and a hellava lot cooler looking than the Snake Light and I will not make him walk 25 feet behind me anymore. Oh buy the way, be careful, this is a great light to read with in bed or near the camp fire and you may lose it to your fishing partner or others in the family.
More to come later